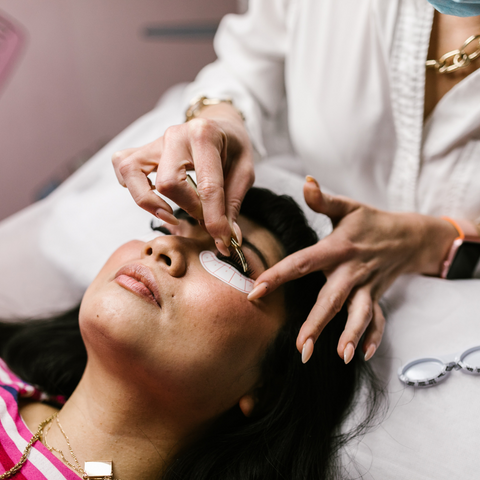 WHY LASH LIFT?
A lash lift is a semi-permanent treatment used to give your natural eyelashes the illusion of perfectly curled lashes with added definition and length. Enriched with proteins, amino acids, and vitamin complex ingredients such as keratin, allantoin, and panthenol. This treatment is a great alternative to eyelash extensions, as it requires less maintenance and long lasting results. Varies between 8-10 weeks.
BOOK NOW
LASH FAQS
How long does it take to heal? What is the recovery time?

With the right aftercare, results from a lash lift last between six to eight weeks.
How often do I need to touch up?

A lash lift will begin to naturally drop after about 2 months and your lashes will be back to their natural look. The lashes should drop evenly and will not look out of place. You can repeat the treatment after a minimum of one month if you feel you need to, or you can wait until they are back to their natural state.
Who is suited for this procedure?

Clients with long, dense, and healthy natural lashes are the best candidates for lash lifts, though those with shorter (yet healthy) lashes will often still benefit. Pro tip: the natural lash should at least lay over the center of the rod or shield. We discourage lash lifts for clients who have damaged natural lashes
Who is not a candidate for a lash lift?

Unfortunately, not everyone is a suitable candidate for a lash lift. If a client has short lashes on the shorter side or that turn down, a lash lift will not work.
PREPARING FOR YOUR APPOINTMENT
We love nothing more than to give you the most amazing results possible. To be able to do that we need to work together and make sure you are ready for your appointment. Just like an artist needs a blank canvas to begin an art piece, our ARTISTS ask you to follow the restrictions below to ensure your skin is in the best possible condition, so they can create a masterpiece for you in the most optimal conditions so read carefully: 
Shower Prior to the Appointment

Eliminating any unnecessary contact with water or steam within the first 48 hours will insure that the bond between the semi permanent lashes and your natural lashes has enough time to properly set.

Wear Comfortable Clothing

You will  lay  down for 60 to 90 minutes during your eyelash application, comfortable clothes will allow you to make the most of this time to relax and be pampered.

Remove Your Contacts

Your eyes will be closed during the application of your eyelash extensions,  to avoid any discomfort, it is always suggested that contacts are removed allowing eyes to be comfortable in a natural and rested state

Do Not apply Face Creams

Do not apply face creams or sunblock in the eye area. The oil found in many moisturizers prevents eyelash adhesive from bonding to the natural eyelash and reduces the longevity of your eyelash extensions.

Do Not Curl Your Lashes

Do not curl your lashes before your appointment. Extensions will not adhere to crimped eyelashes.

Turn off your cellphone just prior to your appointment.

This is truly a time to sit back and relax. ringing cellphones will only interrupt your treatment. enjoy the "me" time, and let your lash transformation begin.
PLEASE NOTE:
If you currently have lash extensions on from another salon, it is required to book a removal service with your new set on your first visit. This is to avoid the risk of mixing different adhesives and different materials with extensions applied at other salons.
THE HEALING PROCESS
After care is crucial, it is very important to follow these instructions for the full 10 day healing period to ensure proper healing and color retention. Results will vary for all individuals and we can not guarantee your results.
DO
Be gentle with your new lashes, refrain from touching or rubbing them. The golden rule is: look but don't touch.
Avoid swimming, steam rooms, saunas, or extreme heat for 48 hours after application.

Maintain your lash extensions with regular touch-up appointments, please schedule in advance as availability can be limited.

Using mascara on eyelash extensions is not recommended. If you must wear mascara, only use water based mascara.
Keep an eyelash comb handy to straighten out any loose, stray lashes. Comb them carefully and very gently only when needed.

Avoid sleeping face down to prevent pressing against your eyelashes.
Be very careful when removing makeup in the eye area. Gently go over the eye area, sweep up and away from the lash extensions.
DON'T
Wear Makeup

Makeup products worn close to the eye will need to be removed prior to the lash application process. coming to your appointment with a clean face will save time and eliminate the need for you lash stylist to remove your eye makeup.

Apply face creams or sunblock to the eye area.

The oils within many moisturizers and sunblock can prevent the eyelash glue from properly adhering to your natural lashes, dramatically reducing the longevity of your eyelash extensions

Wear Mascara

Lashes must be fresh and clean in order to be properly prepped to receive eye lash extension.  no mascara!

Wear Large Dangly Earrings

The lash application process requires you to lay with your head propped on a comfortable support pillow. large or dangly earrings can often get in the way making it difficult for you to remain comfortable during the complete application time.

Curl your lashes on the day of your lash application.

We need your eyelashes to be in the most natural and healthy state they can prior to your lash extension application.  please do not curl your eyelashes, or use any other manipulation on them the day of your appointment.
MAINTAINING YOUR LASHES
The great thing about a Lash Lift is that it is a very low maintenance procedure however, there is a little extra care required over the first 24-48hrs.
LASH LIFT AFTERCARE
24 HRS AFTER

Do not get your lashes wet for the first 24 hrs.
Do not use harsh products on your eyes/lashes.
Use of Sauna/Steam is possible after 24hrs but may weaken the effect of the lift.
No eye make up for 24 hours.
Avoid waterproof mascara's.
Swimming should be avoided for at least 24hrs.
No other facial beauty treatments for 24hrs.