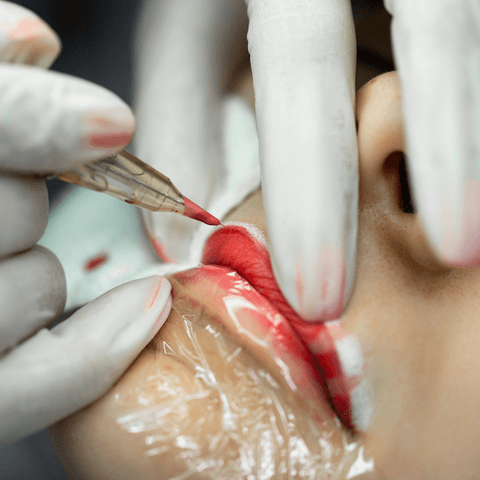 LIP BLUSHING
Lip Blush also know as Lip shading is a semi-permanent cosmetic technique that when healed will give your lips a sheer tint.
Lip Blush which was created to enhance your natural shape, correct asymmetry, add definition and fullness.
With the help of Lip Blush permanent makeup, it is possible to correct fading color of the lips associated with aging and sun exposure. This treatment can also conceal scarring or balance color of two-toned lips.
The color is customized for every client, therefore you can be sure to achieve your desired result.
The service lasts 1-3 years an annual touchup is suggested to re-brighten the color.
BOOK NOW
FAQS
How long does it take to heal? What is the recovery time?

HEALING CAN TAKE UP TO 10 DAYS AND IT IS PERFECTLY NORMAL FOR SMALL SCABBING TO APPEAR ON THE TREATED AREA. THESE SHOULD BE ALLOWED TO FALL OFF NATURALLY OVER A PERIOD OF A FEW DAYS
How often do I need to touch up?

This touch-up is done at 5-6 weeks after your first appointment. This touch up is scheduled the way that it is because the healing process is different for everyone, and it takes about 40-45 days to allow your pigment color to settle in and your skin to fully heal before we will do your touch-up.
Who is suited for this procedure?

Lip blushing may be good for those who are concerned about the color of their lips or if they have uneven pigmentation they'd like to fix
Who is not a candidate for microblading?

If you have a history of cold sores or herpes, the procedure could trigger an outbreak. Prescribed anti-viral medication should be taken in advance of the appointment, and it should be noted that cold sores can affect the healed results of the lip blush.
PREPARING FOR YOUR APPOINTMENT
We love nothing more than to give you the most amazing results possible. To be able to do that we need to work together and make sure you are ready for your appointment. Just like an artist needs a blank canvas to begin an art piece, our ARTISTS ask you to follow the restrictions below to ensure your skin is in the best possible condition, so they can create a masterpiece for you in the most optimal conditions so read carefully: 
2 WEEKS BEFORE

no botox or fillers
no retinol or chemical peels

1 WEEK BEFORE

no tanning (or sunburn!)
exfoliate lips daily
take suggested cold sore preventative of choice 
use a lip balm/conditioner (I recommend Aquaphor) every day as lips cannot be chapped  to receive lip blushing 

24 HOURS BEFORE

no alcohol, caffeine, or blood thinners
drink plenty of water to minimize swelling

SUGGESTED COLD SORE PREVENTATIVE

To prevent a likely cold sore formation after receiving lip blushing, I recommend taking the over the counter supplement L-Lysine  if you are not prone to cold sores, or prescription Valtrex if you are prone to coldsores 
THE HEALING PROCESS
Taking care of your new lips after lip treatment is extremely important to how your lips will look after they are fully healed and the longevity of your lip blush treatment.
Our artisits created a masterpiece fused with your own natural beauty, as they were trained to do, but taking care of it afterwards is your responsibility so we highly recommend to follow these aftercare instructions methodically:
DO'S
DAY 1

Blot lips throughout Day 1 with a dry paper towel to remove any lymphatic fluid

DAYS 1-7

Keep lips moisturized at all times with the aftercare ointment I provide you with for 7 days.

DAYS 1-30

After 7 days, use Aquaphor on lips at all times for the next 30 days 

SUGGESTED:

Take quick, lukewarm showers
Only touch lips if your hands are freshly washed
DON'T
DO NOT let lips dry out
No makeup, creams, or cleansers near the lips (7 days)
Avoid eating spicy food (7 days)
NO kissing (7 days)

DO NOT use anything abrasive on the lips (7 days)
DO NOT pick at scabs
NO hot baths, saunas, swimming, or direct shower water on the lip area (7 days)
NO tanning via sun or tanning beds (7 days)
HELPFUL TIPS:
Drink through a straw (7 days)
Cut up food and place it in your mouth to avoid rubbing lips on food (7 days)
Brush teeth carefully with small amounts of toothpaste
Drink lots of fluids before and after procedure to minimize swelling
MAINTAINING YOUR LIPS
Lips are unpredictable. Some clients will yield very strong healed lip color. Others will only heal with slight color uptake. This will vary on an individual basis.
Clients with sun damage, scar tissue (from injury or fever blisters) and clients with implants may not have strong results. Hyperpigmentation can happen on any lip client without warning.
Once lips are healed. redness, swelling, tenderness, dryness are all common post treatment side effects and will dissipate in a short period of time.
Avoid oily, salty, acidic foods and alcohol while healing. 
WHAT TO EXPECT
DAYS 1-14

Lips will feel swollen and very dry after
your treatment. Apply ointment on lips several times a day. This should be done
for at least 14 days post treatment

DAYS 1-30

Do not allow lips to become dry. This may interfere with healed color.

During the day if lips feel dry, apply a liberal amount of ointment. Just tap on skin and do not rub in. ​always use a clean q-tip, not fingers to apply ointment to the lips area. This will reduce the risk of infection. 

HELPFUL TIPS:

After lips are no longer tender to the touch they may become flaky. This is normal and is expected. Please do not pick or scratch at them
LONG TERM CARE
Follow all before and after instructions after all lip treatments. Lip retouch must be scheduled weeks apart from initial season to help with color retention. Lips heal in three stages: too dark - too light - just right. This takes one month to happen. Please avoid any friction to lip area.