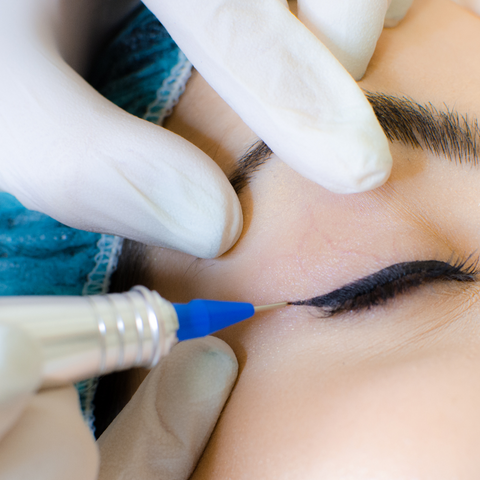 WHY PERMANENT EYELINER?
Eyeliner is a form of permanent makeup (cosmetic tattoo). This natural technique is a great method to give your top lashes a fuller, darker effect while outlining and framing your eye. This eyeliner technique sits directly on the top lash line and blends into your lashes. One of the greatest advantages of eyeliner enhancement is that it will never smudge and always have a beautiful shape that is professionally drawn. Eyeliner enhancement is also known as eyelash enhancement, lash enhancement, eyeliner tattoo
BOOK NOW
EYELINER FAQS
How long does it take to heal? What is the recovery time?

Most eyeliner tattoos will last between 8 and 18 months, however the pigment will eventually fade, so a 'touch up' is recommended after 12 months. Every skin holds the pigment differently and many things including medications, skin type and health can determine the rate of fading
How often do I need to touch up?

Most eyeliner tattoos will last between 8 and 18 months, however the pigment will eventually fade, so a 'touch up' is recommended after 12 months. Every skin holds the pigment differently and many things including medications, skin type and health can determine the rate of fading
Who is suited for this procedure?

In particular people with cataracts, arthritis, multiple sclerosis, Parkinson's disease or those who have suffered from a stroke may find this procedure appealing. It can help them look their best while avoiding the physical challenges of applying makeup.
Who is not a candidate for eyeliner?

Individuals with any kind of skin condition on or near the treatment area. Eczema, dermatitis, rosacea, psoriasis or any one of these skin conditions may compromise the surface and texture of the skin. Procedure performed on skin with these type of condition may have sub par results.
PREPARING FOR YOUR APPOINTMENT
We love nothing more than to give you the most amazing results possible. To be able to do that we need to work together and make sure you are ready for your appointment. Just like an artist needs a blank canvas to begin an art piece, our ARTISTS ask you to follow the restrictions below to ensure your skin is in the best possible condition, so they can create a masterpiece for you in the most optimal conditions so read carefully: 
2 DAYS PRIOR

Do not dye or perm your eyelashes for 2 days prior to your procedure

24 HOURS PRIOR

Do not wear contact lenses during the procedure and for the next 24 hours

Bring sunglasses to wear home as your eyes may be sensitive to light after the treatment

Inform your cosmetic tattoo professional about any eye surgery (cataracts, lasik) that you may have had.
THE HEALING PROCESS
Each individual may heal differently and healing times may vary. Remember the permanent makeup is made to enhance your features not to replace makeup. In each procedure the appearance of your pigment will be darker than the final results. We suggest waiting at least 30-60 days for full healing before any touch ups
DO'S
Keep area clean. Blot or rinse off oozing
Soap/cleansers may be used as long as they are not alcohol based and do not have anti-aging acids or acne acids in it

If no allergies, ibuprofen may be used to reduce swelling and discomfort. If other medication is desired consult with your physician first

A permanent makeup procedure is the equivalent of a skin-deep wound, a scab may form over the treated area in 3-7 days and fall off
It is very important not to pick or pull at the scab; this will increase the risk of scarring and prolong recovery

Keep moist with healing ointment at all times while outer healing occurs (3-5 days for eyes, 7-10 days for lips)
Clients do best with water soluble or non-comedogenic/pore clogging products that let the skin breathe

Avoid strenuous activity for 2 days especially the first couple of days
Use of sunblock after healing is completed will help prevent premature fading

Treat area much remain dry, cover with a watertight bandage while showering
PLEASE NOTE:
Notify permanent makeup artist or physician at first sign of allergic reaction or infection. If you suspect a problem is developing, the first thing to do is switch the type of ointment you are using. The ointment is often the cause of the problem, however if it continues consult a physician immediately.
An occasional slight healing itch is normal. Constant intense itching, abnormal thick yellow discharge, yellow crust, hot burning pain, lumps, bumps, blisters, redness, swelling, tenderness of the procedure site, red streaks going from the procedure site towards the heart, elevated body temperature, or purulent drainage from the procedure site are not normal
DON'T
No scrubbing. Do not rub, wipe,  or scratch area. Use patting motions only

Do not expose the area to full pressure of the shower. Clean it and keep ointment on it. Scabs that dry out take longer to heal

Do not compress your face in a pillow while sleeping,

Do not swim in fresh, salt, or chlorinated water for 2 weeks.

Avoid recreational water activities, gardening, contact with animals, or environments that would cause dirt or germs to contact area while healing

Do not apply topical cosmetics over area while healing

Do not expose the tattoo to contact with animals or gardening activities
MAINTAINING YOUR EYES
You must follow the steps below EXACTLY so that your eyebrows will heal into a nice natural color and last a long time. Remember that your eyebrows are healing so it is normal for your skin to be red, dark, and some will peel off within 3 weeks. Do not worry, after 4 weeks, the strokes will come back, then we can do the touch-up after 4 weeks.
WHAT TO EXPECT
DAY 1

You'll love your new eyeliner!

Your eyeliner color is approximately 30% darker than it will be when it's healed. It will also appear slightly larger than it will heal in just a few days. This is due to color oxidation as well as a small amount of swelling and it is a normal part of your healing process. You will have no trouble driving home and going about the rest of your day normally. It's unlikely that anyone will notice you've had your eyeliner permanently done except for possibly those you know very well.

Days 2-3:

Your color will darken temporarily as the pigment oxidizes and thin scabs will form.

You may wake up slightly puffy but you can remedy this by sleeping on an incline or applying a cool compress. Your eyeliner will feel tight and dry, but not painful.

Days 3-5:

Your eyeliner will begin flaking until there is no scabbing left.

You want to allow healing to shed naturally. Once all scabbing has finished flaking, it is common for the color to appear lighter than it will eventually heal. This lighter color is only temporary as your freshly healed skin is hiding the true color underneath. Over the next several weeks your eyeliner color will bloom.

DAY 42

At 6 weeks your eyeliner is fully healed.

It's now okay for you to come back in for your follow up. Any adjustments such as darkening the color or altering the shape can be done at this appointment.
LONG TERM CARE
You will need to wait 30 days to restart any lash treatments if you are using them and two weeks before being able to apply lash extensions.
You must let the scabbing process happen naturally. This is very important for your retention and skin healing. Do NOT pick at the scabs, scratch your brows, peel your scabs off, or scrub the area. This can result in scarring and will affect your overall retention of the pigment. After 10 days you may resume your normal life and beauty routines.